At the end of the 19th century, Art Nouveau created a new direction that emancipated itself from the historical styles and dared to make a completely new start. At the centre of this new direction are geometirical and naturalistic forms. The era owes its name Jugendstil (Art Nouveau) to the weekly magazine "Die Jugend", which was published in Munich and propagated a new art for a new way of life.
In the German-speaking countries, Vienna became a centre of Art Nouveau, along with Munich and Darmstadt, with the new art movement here being called Secession style, following the example of the group of artists of the "Vienna Secession".
In other European countries the style is also known by other names: In England as "Modern Style", "Liberty Style" or also "Arts & Craft", in Italy as "Stile florale", but above all in France as "Art Noveau".
ART NOUVEAU JEWELLERY
Concerning Viennese Art Nouveau jewellery, the world-famous Wiener Werkstätte is first of all to be mentioned. The artists Josef Hoffmann, Koloman Moser, Carl Otto Czeschka and Dagobert Peche designed pieces of jewellery in this new style under its roof.
In the Paris des Fin de Siècle, it was above all the goldsmith René Lalique who became a pioneer of Art Noveau. But also the Parisian goldsmiths Van Cleef & Arpels, Louis Francois Cartier and George Fouquet achieved world fame with their creations.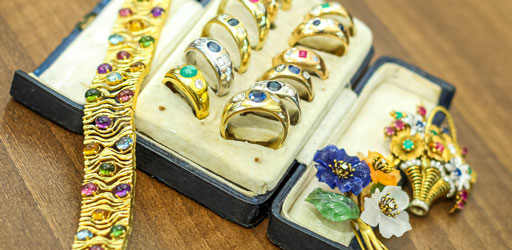 ART NOUVEAU JEWELLERY FEATURES
With Art Nouveau, the material of a piece of jewellery receded into the background. Instead, the artistic design of the piece and the originality of the ornamentation became important.
In addition to gold, silver and precious stones, less noble materials were increasingly used. From steel, copper and bronze to mother of pearl and horn to enamel and glass.
For their Secession jewellery, for example, the artists of the Wiener Werkstätte mainly used silver, which was hammered, chased and patinated to make necklaces, chains, rings and brooches. Agates, amethyst, lapis lazuli and opal were used as swallow stones. Moonstone but also coral and ivory were used.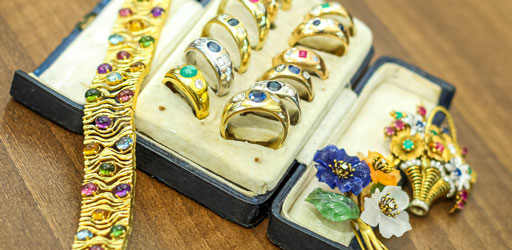 The ornamentation of Art Nouveau jewellery is taken from nature: in addition to flowers and blossoms, insects, especially butterflies and dragonflies, can be found, but also naked female bodies, faces and heads, often with long flowing hair. Next to them are curved wavy lines and spirals with recurring patterns.
Gustav Klimt & the Secession style
Gustav Klimt had a special influence on the artists of the Wiener Werkstätte. Especially Kolo Moser's jewelry designs are strongly influenced by Klimt. His creations, on the other hand, can be found in many pictures and photographs of Klimt's muse and companion Emilie Flöge, who liked to wear necklaces, brooches and other Wiener Werkstätte accessories with reform dresses designed by Klimt.
At Antik & Co you will find genuine antique art nouveau jewelry at reasonable prices.
We stock handmade historical jewellery that we have saved from melting down and for whose authenticity we personally guarantee.
ANTIK&Co
Wipplingerstrasse 20
1010 Vienna
Here you can find your individual route from your location to our shop in the city centre of Vienna